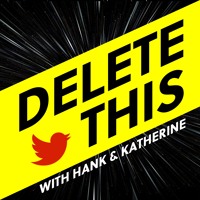 delete this
A podcast from Hank & Katherine Green.
https://www.youtube.com/channel/410943285
---
Hank is famous on the internet. Katherine does a wonderful job dealing with that. They are married and raising a child together. They want to talk seriously and also not-so-seriously about what's going on with them and in the news. But they also want to take a hard look at how the way they engage with social media impacts their lives, and how the way we all engage with social media impacts the world.
Video statistics
| Date | Title | | | | | | | |
| --- | --- | --- | --- | --- | --- | --- | --- | --- |
| 2018-03-06 | 01 - Don't At Me! | 1:06:56 | 80,786 | 0 | 0 | 29 | | |
| 2018-03-13 | 02 - The Chumbawamba Situation | 58:07 | 57,538 | 0 | 0 | 12 | | |
| 2018-03-20 | 03 - Good Plump Bird Fronts | 54:48 | 48,157 | 0 | 0 | 14 | | |
| 2018-03-28 | 04 - Who Viples The Piples? | 49:45 | 45,154 | 0 | 0 | 7 | | |
| 2018-04-02 | 05 - The Despacito Situation | 55:24 | 51,679 | 0 | 0 | 10 | | |
| 2018-04-09 | 06 - Diaphragmatic Tweeting | 49:57 | 44,552 | 0 | 0 | 10 | | |
| 2018-04-16 | 07 - Viral Butt Wiggles | 49:37 | 44,946 | 0 | 0 | 4 | | |
| 2018-04-23 | 08 - A Solid Meh | 49:05 | 45,515 | 0 | 0 | 6 | | |
| 2018-04-30 | 09 - The Arnold Facepalmer | 46:37 | 44,845 | 0 | 0 | 12 | | |
| 2018-05-07 | 10 - The Giovanni Situation | 56:06 | 48,100 | 0 | 0 | 8 | | |
| 2018-05-14 | 11 - The Snack Food of Magnitude | 50:50 | 47,737 | 0 | 0 | 13 | | |
| 2018-05-28 | 12 - Pipe Flavored Vape Juice | 49:59 | 43,830 | 0 | 0 | 10 | | |
| 2018-06-04 | 13 - The Tom Bodett of Metamucil | 51:56 | 43,317 | 0 | 0 | 6 | | |
| 2018-06-11 | 14 - The Something Of Mossachusettes | 44:39 | 43,060 | 0 | 0 | 9 | | |
| 2018-06-18 | 15 - Falling Off the Wagon | 51:41 | 45,457 | 0 | 0 | 15 | | |
| 2018-07-02 | 16 - The Rules of the Ghost Library | 54:24 | 46,445 | 0 | 0 | 4 | | |
| 2018-07-09 | 17 - 90% of Showing Up is Showing Up | 46:12 | 43,529 | 0 | 0 | 9 | | |
| 2018-07-16 | 18 - Elon...Mostly | 52:19 | 44,005 | 0 | 0 | 11 | | |
| 2018-07-23 | 19 - bop heyYOP...BOP! | 45:34 | 42,444 | 0 | 0 | 15 | | |
| 2018-07-30 | 20 - That's a Booby! | 41:52 | 42,392 | 0 | 0 | 11 | | |
| 2018-08-08 | 21 - This is Your Helico Pter Pilot Speaking | 52:51 | 44,127 | 0 | 0 | 8 | | |
| 2018-08-13 | 22 - Your Wildest Business Fantasies | 39:41 | 41,316 | 0 | 0 | 3 | | |
| 2018-08-20 | 23 - Badorf Abba Dus Beebess! | 48:36 | 42,695 | 0 | 0 | 15 | | |
| 2018-08-27 | 24 - You is Meat, Todd | 47:14 | 44,901 | 0 | 0 | 12 | | |
| 2018-09-10 | 25 - Beans | 31:28 | 38,982 | 0 | 0 | 12 | | |
| 2018-09-18 | 26 - All Numbers are Two | 39:45 | 41,488 | 0 | 0 | 11 | | |
| 2018-09-28 | 27 - Anniversary Edition! | 38:04 | 41,542 | 0 | 0 | 16 | | |
| 2018-10-15 | 28 - Jim Krakauer's Chest Haircut | 36:14 | 40,647 | 0 | 0 | 10 | | |
| 2018-10-23 | 29 - Eel Intercourse, Specifically | 46:38 | 41,183 | 0 | 0 | 9 | | |
| 2018-10-29 | 30 - Suspiciously Large Quantities of Soup | 53:47 | 48,230 | 0 | 0 | 22 | | |
| 2018-11-12 | 31 FINAL - A Boot Full of Bandaids - 2020 | 1:15:07 | 787 | 0 | 0 | 0 | | |
| 2018-11-13 | 31.3 - OH MY GOD FOR REAL THIS TIME!! | 47:12 | 40,944 | 0 | 0 | 8 | | |
| 2018-11-19 | 32 - MmmmmWhatchasaaaayyy | 38:49 | 41,637 | 0 | 0 | 9 | | |
| 2018-12-04 | 34 - A Vacuum In Reverse | 49:07 | 40,674 | 0 | 0 | 18 | | |
| 2018-12-10 | 35 - Unclear on Why We're Beating the Horse | 36:27 | 37,351 | 0 | 0 | 8 | | |
| 2018-12-18 | 36 - Efficiency on the Pole | 52:19 | 38,725 | 0 | 0 | 15 | | |
| 2018-12-24 | 37 - Heavy on the Schnaaps | 47:36 | 38,681 | 0 | 0 | 9 | | |
| 2018-12-31 | 38 - The Perineum of Kindness | 53:05 | 42,385 | 0 | 0 | 8 | | |
| 2019-01-08 | 39 - We Humbly Apologize to The Smiths | 43:34 | 39,393 | 0 | 0 | 13 | | |
| 2019-01-14 | 40 - NoobtFloobx and Choobll | 40:56 | 37,122 | 0 | 0 | 10 | | |
| 2019-01-21 | 41 - LIVE from PodCon! | 48:08 | 34,643 | 0 | 0 | 5 | | |
| 2019-01-28 | 42 - Stress Hives! | 46:33 | 35,926 | 0 | 0 | 4 | | |
| 2019-02-04 | 43 - A Love Letter to Arnie | 43:12 | 36,185 | 0 | 0 | 10 | | |
| 2019-02-13 | 44 - Duodenum | 52:30 | 36,245 | 0 | 0 | 13 | | |
| 2019-03-05 | 45 - Chim Chiminey | 45:20 | 31,242 | 0 | 0 | 6 | | |
| 2019-03-11 | 46 - Missoula Montana's Bar Scene | 50:31 | 28,233 | 0 | 0 | 9 | | |
| 2019-03-19 | 47 - Ugh... | 49:53 | 3,429 | 0 | 0 | 11 | | |
| 2019-03-25 | 48 - Torturing the Ducks | 43:17 | 3,523 | 0 | 0 | 4 | | |
| 2019-04-01 | 49 - Garfield's Blessing | 49:41 | 3,526 | 0 | 0 | 12 | | |
| 2019-04-09 | 50 - It's a Peeve! | 49:33 | 3,365 | 0 | 0 | 8 | | |
| 2019-04-15 | 51 - She Works Hard for the Gushie | 52:06 | 3,649 | 0 | 0 | 9 | | |
| 2019-04-23 | 52 - Tactical Emery Board | 44:32 | 3,139 | 0 | 0 | 8 | | |
| 2019-04-29 | 53 - 600 Boxes of Gushers | 40:53 | 3,621 | 0 | 0 | 10 | | |
| 2019-05-13 | 54 - 100% Frappy Chappy | 40:37 | 3,185 | 0 | 0 | 7 | | |
| 2019-05-27 | 55 - Multiple Exhalent Canals | 53:24 | 2,683 | 0 | 0 | 9 | | |
| 2019-06-03 | 56 - Horny for Arm Socks | 37:28 | 2,365 | 0 | 0 | 5 | | |
| 2019-06-10 | 57 - Keanu Just Sleeves | 50:13 | 2,601 | 0 | 0 | 5 | | |
| 2019-06-17 | 58 - Deleted by the Sun | 52:25 | 2,817 | 0 | 0 | 9 | | |
| 2019-07-01 | 59 - Cows Are Comin' | 39:46 | 2,179 | 0 | 0 | 7 | | |
| 2019-07-09 | 60 - Perma Slurmp | 40:48 | 2,161 | 0 | 0 | 6 | | |
| 2019-07-23 | 62 - Alan, You're a Go for Pee Pee | 49:10 | 2,001 | 0 | 0 | 4 | | |
| 2019-07-30 | 62 - BONK BONK | 47:12 | 2,069 | 0 | 0 | 4 | | |
| 2019-08-07 | 63 - One of Your Tastemaker Friends | 45:01 | 1,859 | 0 | 0 | 6 | | |
| 2019-08-13 | 64 - i have an IDENTITY | 47:04 | 2,125 | 0 | 0 | 5 | | |
| 2019-08-19 | EARTH BONES (EPISODE 1 AND 2) | 32:43 | 1,461 | 0 | 0 | 3 | | |
| 2019-08-27 | 65 - The Butt Tweet | 44:13 | 1,838 | 0 | 0 | 2 | | |
| 2019-09-04 | 66 - American Aisles | 36:07 | 1,950 | 0 | 0 | 1 | | |
| 2019-09-09 | 67 - Put Me on the List for Dip | 30:25 | 1,890 | 0 | 0 | 3 | | |
| 2019-09-19 | 68 - TBBLOBNOERN | 39:21 | 1,676 | 0 | 0 | 2 | | |
| 2019-09-30 | 69 - Gettin' Out the Noodles | 43:28 | 1,570 | 0 | 0 | 1 | | |
| 2019-10-07 | 70 - Go Cougars! | 36:26 | 1,411 | 0 | 0 | 3 | | |
| 2019-10-16 | 71 - Baby Gandalf | 32:45 | 1,383 | 0 | 0 | 3 | | |
| 2019-10-23 | 72 - Katherine is a Very Rare Dragon | 40:52 | 1,286 | 0 | 0 | 6 | | |
| 2019-10-28 | 73 - None Pizza with Left Beef Will Never Die | 46:52 | 1,407 | 0 | 0 | 4 | | |
| 2019-11-05 | 74 - Two Hole Beers | 42:02 | 1,271 | 0 | 0 | 7 | | |
| 2019-11-11 | 75 - Solidly Firth | 29:38 | 1,303 | 0 | 0 | 2 | | |
| 2019-11-21 | 76 - The Binker | 48:38 | 1,406 | 0 | 0 | 3 | | |
| 2019-11-26 | 77 - Tax the Dentists | 44:51 | 2,136 | 0 | 0 | 6 | | |
| 2019-12-04 | 78 - Oops! I Dingus'd! | 41:40 | 1,165 | 0 | 0 | 5 | | |
| 2019-12-10 | 79 - Christmas Pee | 35:23 | 1,155 | 0 | 0 | 0 | | |
| 2019-12-17 | 80 - Doogle Gocs | 41:39 | 1,149 | 0 | 0 | 1 | | |
| 2019-12-24 | 80 - Detweeted | 44:28 | 1,098 | 0 | 0 | 1 | | |
| 2019-12-30 | 81 - Space Drugs | 40:40 | 1,435 | 0 | 0 | 2 | | |
| 2020-01-09 | 82 - sAVE tHe WoRLd | 31:25 | 1,193 | 0 | 0 | 2 | | |
| 2020-01-14 | XX - The Meet Cute (Live from St. Petersburg! | 16:51 | 921 | 0 | 0 | 2 | | |
| 2020-01-27 | 83 - The Worst Thing to do with a Cookie | 51:24 | 1,340 | 0 | 0 | 5 | | |
| 2020-02-04 | 84 - Noopers | 39:08 | 1,316 | 0 | 0 | 0 | | |
| 2020-02-11 | 85 - Just Like Milk | 33:48 | 1,395 | 0 | 0 | 4 | | |
| 2020-03-04 | 86 - Eat Sleep Play LAX Repeat | 49:21 | 1,113 | 0 | 0 | 7 | | |
| 2020-03-18 | 87 - Delete This Whole Situation | 47:07 | 962 | 0 | 0 | 4 | | |
| 2020-03-25 | 89 - So... | 38:56 | 1,206 | 0 | 0 | 2 | | |
| 2020-04-02 | 90 - THAT'S NOT A NOODLE | 39:13 | 941 | 0 | 0 | 4 | | |
| 2020-04-06 | 91 - The Ring Toe | 53:04 | 1,076 | 0 | 0 | 1 | | |
| 2020-04-13 | WE NEED TULIPS | 32:38 | 1,029 | 0 | 0 | 3 | | |
| 2020-04-28 | 94 - Brady and Beverly's Beetle Juice Pod Episode 1 | 41:01 | 875 | 0 | 0 | 0 | | |
| 2020-05-05 | 95 - Your Squid Hole | 42:47 | 941 | 0 | 0 | 1 | | |
| 2020-05-13 | 96 - Throat Jerky | 37:01 | 819 | 0 | 0 | 2 | | |
| 2020-05-28 | 97 - Chicken Dump Truck | 41:06 | 896 | 0 | 0 | 0 | | |
| 2020-06-10 | The Cheesecake | 36:20 | 725 | 0 | 0 | 0 | | |
| 2020-06-16 | 99 - A Very Small Fire | 39:44 | 829 | 0 | 0 | 4 | | |
| 2020-06-30 | 100 - Michael Bolton was in Snow Dogs | 38:29 | 708 | 0 | 0 | 3 | | |
| 2020-07-06 | 101 - Belon Busk and Banye Best | 33:17 | 709 | 0 | 0 | 1 | | |
| 2020-07-15 | 103 - Is Cancel Culture a Cake? | 32:19 | 437 | 0 | 0 | 3 | | |
| 2020-07-17 | 103 - Is Cancel Culture a Cake? | 32:19 | 463 | 0 | 0 | 0 | | |
| 2020-07-29 | FINAL EPISODE? Roman Mars, Explain the Tiddy Lamp | 56:57 | 609 | 0 | 0 | 7 | | |